Today Columbus Crew SC announced trading forward Kei Kamara, who was mentioned as a candidate for MLS MVP last year, to the New England Revolution. This season, however, Kamara had been suspended a game by the team for criticising teammate Frederico Higuain (nicknamed "Pipa") in the media.
"Kei had a memorable 2015 season and we recognize and understand how popular and productive he was, so this decision was not one we made lightly," said Sporting Director and Head Coach Gregg Berhalter. "Our actions will always reflect the values of our club and we believe this transaction will improve our competitiveness this year and in future years."
To read what Crew SC received in return click here. To read reaction to the deal, continue below.
Welcome to the #NERevs Family, @keikamara!https://t.co/c9jAKu5UQk pic.twitter.com/ag3wuB3UYT

— NewEnglandRevolution (@NERevolution) May 12, 2016
These next few are from the Crew SC Owner…
Shuffling through radio stations…. 'Every Rose has its Thorn'…"Bittersweet Symphony'. Yeah, that is pretty much where I am at.

— Anthony Precourt (@APrecourt) May 12, 2016
Team first in Columbus. Always. #CrewSC

— Anthony Precourt (@APrecourt) May 12, 2016
Need this to be crystal clear, not about the PK or Pipa drama this week. One chapter in the book. #CrewSC

— Anthony Precourt (@APrecourt) May 12, 2016
And from members of the local media…
They chose to trade away the best pure aerial threat we've seen in Columbus since McBride for…cash and prizes. https://t.co/Vc8JZLkiKT

— Degenerate T-Bone (@DegenerateTBone) May 12, 2016
The Kei Kamara story is venturing into the world of #Browns bizarre. So unfortunate.

— Tom Reed (@treed1919) May 10, 2016
Because make no mistake, a move like this, on a team that hosted MLS Cup last yr and returned EVERYBODY, makes the club significantly worse

— Adam Jardy (@AdamJardy) May 12, 2016
The hardest pill to swallow from this Kamara trade is that the season is pretty much over now

— Allie Dosmann (@AllieDosmann) May 12, 2016
#CrewSC visits New England on July 9 and Aug. 20. Revs come to Mapfre Stadium for national TV game (FS1) on Sept. 25.

— Shawn Mitchell (@smitchcd) May 12, 2016
Kei Kamara seemed to have an inkling this was coming…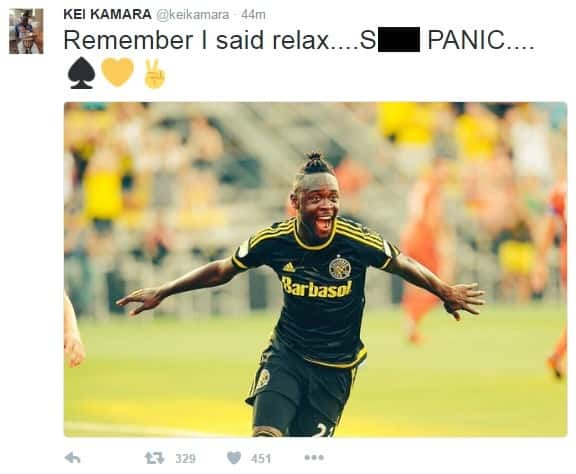 Tags: