We had Columbus's sports teams name their organizations' unsung heroes. What follows is one in a series of four features on these underappreciated individuals.
• To See Week One: Columbus Crew SC
• To See Week Two: Columbus Clippers
• To See Week Three: Ohio State
| By: Lori Schmidt |
The Blue Jackets unsung hero is so unheralded, when he celebrated his 1,000th NHL game two years ago, the team had to bring him to the bench and take his photo. They had no other action shots of him.
He flies so far beneath the radar, few people seem to know his real name, although those close to the team do appreciate the importance of "Ski."
His anonymity is odd considering his impact. Jason Stypinski, for instance, is the man responsible for an ECHL rule against equipment staffers modifying jerseys.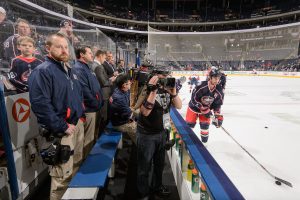 He had sewn inserts into the sweater of the Columbus Chill's enforcer, successfully allowing more freedom of movement and bigger punches.
In his defense, he only did this after Toledo's tough guy had sent the Chill a Christmas card containing Yuletide greetings, and an invitation to the Chill's fighter. "You wanna go?"
Life in the NHL is less free-swinging. Every equipment modification must be photographed and justified to the league. Still, Stypinski feels his job is more or less the same.
"We don't just fix things, we take away everyone's excuses."
Traveling For Miles To End Up Home

When I met Jason, we briefly debated where we should talk. Eventually, we headed to where Stypinski spends so much of his time, the equipment room.
"Welcome to the dungeon," he said with an easy laugh, to which I follow up by asking him how he became a dungeon master.
"Dumb luck actually," Stypinski answered. "I bounced around for a little bit."
That, it turns out, is a bit of an understatement.
Stypinski grew up in Columbus. He took figure skating lessons, then learned to play hockey. He sharpened his first skate at age 10. By 13, he was regularly sharpening his skates and waking up at 5 a.m. on Saturdays to hit the ice at the Ohio State rink.
Later on, he would end up enrolling at OSU, but dropped out after three weeks.
"They don't teach this," he explained gesturing with a tattooed arm at the equipment in front of him, "in college."
He spent stints with the Jacksonville Lizard Kings, the Columbus Chill, then the Mississippi Bandits. (He even taught the Zamboni drivers how to care for the ice at this stop.) He returned to Ohio to spend his offseason working maintenance at Wyandot Lake, where he met his now wife, and three days after that meeting, left for Peoria, Illinois and the Rivermen.
I wonder aloud how one ends up marrying a woman, when almost 400 miles separated them so soon after their first date.
"We just hit it off," Stypinski said.
If I have not mentioned it, Stypinski seems prone to understatement.
Finally, after interviewing with the Blue Jackets five separate times, he wound up coming home.
No Job Too Big or Small
Not only has Stypinski made numerous stops along his career, he has filled a number of roles for the CBJ. He's been a water boy,  locker room attendant, and equipment assistant. Unofficially, he's been a janitor, Sergei Bobrovsky's nutritional shake mixologist, stocker of hair gel, and Columbus ambassador.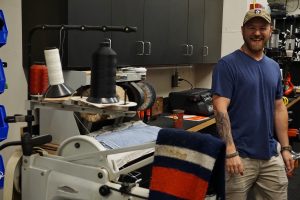 As the man who trucks the visiting team's equipment to and from the arena, he hears opposing players rave about the city. He laughingly admits to being tempted to tell them they should sign here.

Stypinski has his own rave reviews for Columbus. His habit of understatement gives way to something more unreserved when he's discussing maters less personal. He has very high praise for his co-workers, saying any one of them could lead their own crew, while complimenting the head of Columbus's equipment staff, manager Tim LeRoy, as someone willing to work alongside the grunts.

He commends the Blue Jackets players, and especially, the coaches.

"Whew," he breathed. "This is one of the best coaching staffs I've ever worked, for. I've never seen a coach more dialed in than John Tortorella. He sees things coming."

He pointed out that Tortorella treats the equipment staff the same way he does the players, insisting they take a break when necessary, once even threatening to fine Stypinski if he didn't catch a day off.

"I'm going to sleep in!" Jason vowed. He made it all the way to 6:30 a.m. before his daughters, now 7 and 10, woke him up.

But even that little bit of rest is invaluable for a man who puts in as much time as a 40-hour per work week employee does in one year just in the time period from September to December 20.

Stypinski has even served an informal role in human resources, having recruited his uncle and dad to work for the team as water boys. They're now a staple on the visitor's bench on game night.

Lucky number 13…


As he heads into his 13th season with the Jackets. He refuses to estimate how many loads of laundry he's done for the team. He conceded it's fair to say he's sharpened hundreds of thousands of skates.

He sent an awl through his hand once repairing equipment, but powered through.

That might not be the most pain he's been in while on the job, though.

That distinction probably goes to when he took warmups as an emergency goaltender for the Chill.

With Jeff Salajko sidelined, Stypinski donned the gear of a man who was approximately 6 inches taller and 20 pounds heavier. He took shots to help the team get ready, and then the referee warned the Chill's coaching staff that if Jason was on the bench when the game started, he'd have to go in should the starting netminder get injured. Jason was given a simple instruction.

"Get your [stuff] off!"

He says he was relieved.

However, when I ask him the best part of his current job, he gives a very simple answer, one you might expect from a player.

"Winning," he said.

Note: Story author Lori Schmidt was a two-time winner of the Ohio University soccer team's Unsung Hero Award…which might be ironic, except for the genuine possibility they forgot they gave it to her the first time. 

Tags: