Photo: Artemi Panarin flanked by Dan Milstein and Jarmo Kekalainen / Courtesy: 97.1 The Fan
| BY: LORI SCHMIDT |
Artemi Panarin has only been in Columbus long enough to say (through a translator) that the town is "clean, neat." The only teammate he is yet friends with is goaltender–and fellow Russian–Sergei Bobrovsky. He joked his only conversation with head coach John Tortorella was far too short for him to extract any promises.
However, he has already inspired lots of laughter in Ohio's capital.
During his introductory press conference held at Nationwide Arena, Panarin cracked wise about going fishing right after he was traded from Chicago. "Everything was great right up until I turned on my phone," Pana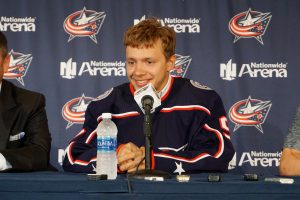 rin said, with his agent, Dan Milstein giving the English translations.
Milstein's presence was necessary, Panarin laughingly implied, because he didn't speak much of the language beyond swear words.
He suggested he had brought boxing gloves with him in order to settle the question of whether he, or Bobrovsky, would get to wear the number 72. Then he conceded, "There were no options. Not with two Vezina Trophies. No chance."
Because in Russia, there's an expression that "bread is the head of everything," Panarin said his grandpa loved the fact that Artemi is nicknamed the bread man. He quickly followed this up by observing that his grandpa never actually calls him the bread man.
It was almost unnecessary when Panarin vowed to bring "lots of smiles" when the Blue Jackets start the season. That much was evident.
However, Panarin gave some heartfelt answers, too, admitting it makes him a little angry that it's always seemingly his linemates getting credit when he performs well.
He pledged to play productive and beautiful hockey, so that fans will enjoy it.
He even said he was happy to play in a division with teams as strong as the Pittsburgh Penguins, including it among the list of reasons he's going to work even harder now that he's with the CBJ.
All in all, the press conference made clear that the Blue Jackets are getting a lot more than just a player who has scored 61 goals and recorded 90 assists in two NHL seasons.
Check out the video below:
Tags: