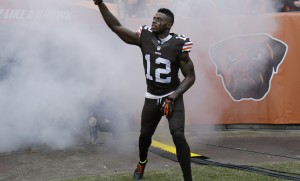 Josh Gordon feels like the Browns receiver group is the best in the league. That's a bold statement after what the team has put on the field the last several years. But is he that far off? Maybe not.
First, you have to eliminate the quarterback from the equation. Sometimes, the receivers make the quarterback better (see Green, AJ) and other times the quarterback makes the receivers better (see Brady, Tom). If we are going to do an honest assessment of the grades, we can't let the glitz and glamour of Brady or Aaron Rodgers blind us.
The Browns boast a pair of receivers that have produced incredible numbers and are still in their primes.
Gordon's peak (to this point) came in 2013 when he played just 14  games, but he caught 87 passes for 1,646 yards (an 18.9 YPC) and scored nine touchdowns. He averaged 117.6 yards per game with Jason Campbell, Brandon Weeden and Brian Hoyer throwing to him.
Want to know how many receivers have averaged 117.6 yards per game since Gordon?
None.
After being banned from the league for drug-related issues for more than two seasons, he played the last five games in 2017 and was targeted often, but didn't produce eye-popping numbers.
However, he is still just 27 years old and his 6-foot-3, 225-pound frame and speed combination will continue to present matchup problems for defensive backs.
And now he has Jarvis Landry opposite him, which only makes Gordon that much more dangerous. The other receiver weapons Gordon had in the past have been scrubs. Miles Austin was probably the best, and he never produced anywhere close to where he did in Dallas.
Landry is not a big-play threat that will be streaking down the sidelines in pursuit of a deep pass. He is Wes Welker. He's caught 400 passes over the last four seasons, but only for a little over 10 yards a reception and with 22 touchdowns.
Corey Coleman, who I still consider to be a major first-round bust, will likely be the number three receiver. It's not Coleman's fault the Browns drafted him way too soon, but he hasn't produced the way a 15th-overall pick should produce. In two seasons, he's played 19 games and hauled in just 56 passes for 718 yards and five touchdowns.
Coleman will benefit from being the guy behind the guy.
Are they the best receiver group in the NFL?
No.
I still would take Pittsburgh, Detroit, Atlanta and Minnesota over the Browns.
But the Browns are knocking on the door for the top-5 and are certainly in the top-10.
And that's a big deal after what's been thrown at Browns fans in recent years.