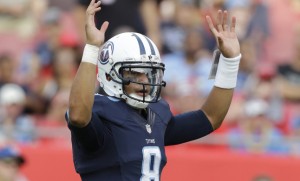 The upcoming NFL season is a critical one for two gunslingers who entered the league within minutes of each other back in 2015: Jameis Winston and Marcus Mariota.
Winston was the top pick that year by the Tampa Bay Buccaneers and Mariota went next to the Tennessee Titans. Full disclosure – I liked Mariota over Winston.
This is year four for this duo, and neither has really exceeded – or even lived up to – expectations.
Let's start with a look at Winston.
He's just 18-27 as a starter, having played in all but three games since his career started. He missed three games last season.
His completion percentage has increased every year from 58.3% to 60.8% to 63.8% last year.
His touchdown-to-interception ratio is 69-44 (4.5% TD passes and 2.8% interceptions) and that has to improve.
Winston has benefitted from having above average receivers in his three years with the Bucs. In 2015, he had Mike Evans, Vincent Jackson and the good Doug Martin. In 2016, Jackson got hurt and Martin sucked, but he still had Evans.
Last year, DeSean Jackson joined to group, replacing Vincent Jackson.
In 2016, the Bucs won nine games. They are in one of the most difficult divisions in football, with six games against Atlanta, New Orleans and Carolina. The playoffs are a long shot and matching that nine-win season from 2016 is likely also out of reach. An eight-win season with a better TD to interception ratio would be a win for Jameis.
Mariota has a better record than Winston at 20-22, starting 42 of a possible 48 games. His completion percentage has always been between 61.2% and 62.2%. His touchdown-to-interception ratio is similar to Winston's at 58 to 34 (4.6% touchdowns and 2.7% interceptions).
Mariota has also been to the playoffs, going 1-1 last season.
The supporting cast around Mariota hasn't been as strong as Winston's, which probably means Mariota is set up to have the better year in 2018 – right?
Wrong.
Mariota has unreliable, unestablished receivers roaming the field. On the plus side, he does have an easier division (well, except for Jacksonville).
Both of these quarterbacks need to have their best statistical seasons of their respective professional careers. That must happen.
I don't think either of them get to the postseason in 2018, but an eight-win season is also a must.