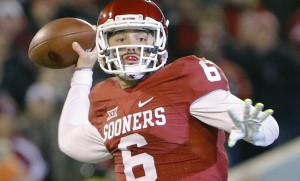 In the 2018 draft, 13 quarterbacks were drafted. Over the last 1o years, an average of 11.8 QBs were drafted each year. The most over that span was 15 back in 2016:
Of that group, I would label three of the 15 as being significant contributors a couple of years later: Goff, Wentz and Prescott. The others haven't established themselves much at all.
But is that worse than the 2014 draft class, which numbered 14 QB draftees?
For my money, the 2014 class has more potential to still be productive. Derek Carr and Teddy Bridgewater have already produced solid seasons. Blake Bortles has been like Joe Flacco and Andy Dalton – a mediocre game manager who needs the defense or someone else on offense to win a game. Bortles is starting for one of the top teams in the AFC, so that counts for something. Jimmy Garrappolo and AJ McCarron (likely) will be starters in Week One for the first time in their careers.
After that 2014 draft, the 2015 draft produced just seven quarterbacks, and none of them have lived up to the billing:
I know Winston and Mariota have been "okay" but they need to be big this year. All the others have done virtually nothing.
I believe the 2018 class will be better, as it seems like teams are doing a better job of using bridge quarterbacks to ease the rookies in to the league. Baker Mayfield went #1,but Tyrod Taylor is going to start Week One. Josh McCown is in New York (Sam Darnold). AJ McCarron is in Buffalo (kid from Wyoming) and Sam Bradford is in line to start over Josh Rosen.
Lamar Jackson is going to be the next QB in Baltimore and Mason Rudolph will wait out the Ben Roethlisberger era in Pittsburgh.
It might take a few years, but the 2018 class might be the best in a long time.