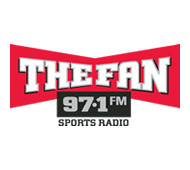 The Fan Fantasy Football Show
Join fantasy football expert  Jeff "Tito" Thitoff and Dave Biddle every Sunday for two hours beginning at 11 a.m.
They will provide expert analysis on managing your fantasy players, letting you know who to draft, who to trade and set you up with all the latest scouting and injury reports.
Also, check out Tito's Fan Fantasy Blog throughout the week for roster tips and the latest fantasy player rankings.
Win your fantasy league's Lombardi Trophy this year!
Follow Tito on Twitter
Follow Dave on Twitter
Check out The Fan Fantasy Show blog
About Tito
About Dave
Podcasts
Tweet Share 0 Email THE FAN'S 'FANTASY FOOTBALL SHOW' AIRS EACH SUNDAY, FROM 11AM – 1PM. HOSTS JEFF THITOFF AND DAVE BIDDLE HIGHLIGHT EACH SUNDAY'S NFL GAMES, FANTASY PLAYERS TO WATCH, PICKS, TRADES, AND DROPS PLUS GAME