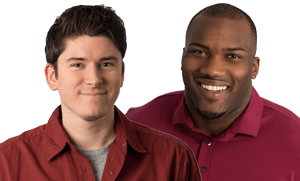 Tim & Beanie
Join Tim Hall and former Buckeye and NFL Running back Beanie Wells every weekday from 10-noon. The guys hit on the latest in the world of sports and bring you up to the minute updates of what's going on with the Buckeyes, the NFL, and more.
Call: 614-821-9710
Follow Tim & Beanie on Twitter
---
Tim & Beanie Interviews and Clips
---
Podcasts
Tim & Beanie
Tweet Share 0 Email Join Tim Hall and former Buckeye and NFL running back Chris 'Beanie' Wells as they talk live and local sports (Buckeyes, NFL and more) weekdays from 10 a.m. to noon.
---
Get to know co-host Tim Hall
♦Follow Tim on Twitter @TimHall971
BIOCAST
Tim sits down with 971thefan.com's web producer, Don Delco, to discuss how he got started in radio and how the Woodbridge, Va. native landed in Columbus at 97.1 The Fan after stops in Utah, Kansas City and Raleigh, N.C.
---
♦Follow Beanie on Twitter @BeanieWells26
BIOCAST
Beanie played for The Ohio State Buckeyes from 2006-08 and finished fifth all-time in rushing with 3,382 yards. The Akron native was selected 31st overall in the first round of the 2009 NFL Draft by the Arizona Cardinals. He played four seasons with the Cardinals. In 2011, Beanie finished the season with 1,047 yards on 245 carries and 10 touchdowns.
Beanie discusses with Delco on how he transitioned from football to the radio and his love of mayo sandwiches. Yes, mayo sandwiches. Just bread and mayo. That's it.
---
♦Follow Brandon on Twitter @BrandonBeam971
BIOCAST
Beam joins Delco to discuss what led him to The Fan, as well as Beamer's love of non-traditional sports. The two spared listeners an in-depth breakdown of the PGA TOUR. They save that for The Fan offices in order to bore their co-workers to death.