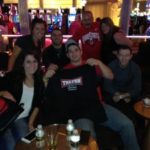 All season long 97.1 The Fan will be holding the premier watch parties at Hollywood Casino Columbus in the OH Lounge.
Every 97.1 The Fan watch party features tons of contests and prizes.  Arrive early for the games for the "Predict a Score contest."  Each game we will be tossing out footballs with names on them.  If your football features the player who scored the first touchdown you win a prize.  Enjoy halftime trivia contests.
97.1 The Fan will put 10 lucky guests in a VIP section with free food.
Enjoy the games on a gigantic screen and in a great atmosphere with The Fan all year.  Check the schedule below and we will see you at Hollywood Casino Columbus this fall!
Gambling Problem? Call 1-800-589-9966 for help.  Must be 21 or older to enter.
VIP Watch Parties will be on:
Sept 2
Oct 2
Oct 23
Nov 6
Nov 27